Action Change
And here it comes again – the desire for change! The feeling you know very well, because it brought you here. The desire for change is characteristic for people who are constantly on the move and have a pervasive need to change the world around them. Creative energy brings them great joy and satisfaction. You may not realize it and maybe you never thought to contemplate it. I'm thinking about it because I myself am a passionate lover of change and a harmony seeker as well.
For you to enjoy this euphoria, I made a list of a few key questions you may not know the answer to, but which you may find useful before you kick off of the event called "the Change".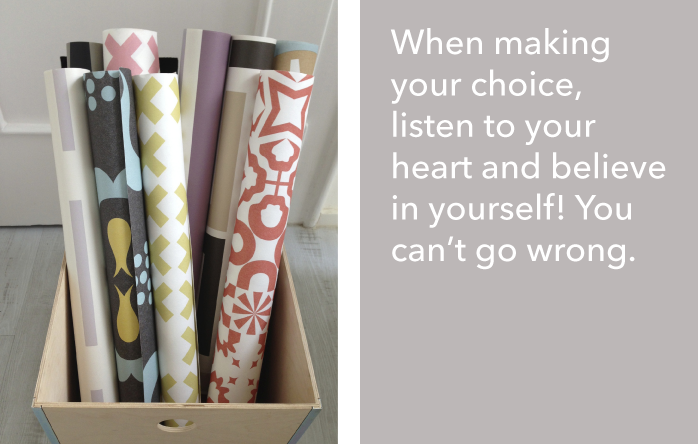 1. Why wallpaper?
"I want the change right now!" Not everybody can afford buying new furniture too often, plus it is not ecological. You can paint the walls, but the effect will be small. You want more enjoyment, something stronger! Wallpaper is a perfect solution for a quick change. With the wallpaper you create a completely new interior easily, as the saying goes – a lot of bang for the buck. In a few hours you will change your interior unrecognizably. You will be thrilled about the change, I promise!
2. How to choose the wallpaper?
Matter of the heart
Choose wallpaper by your heart. Choose what you like and what pleases you. The sight of it should make you happy every day, it should help create a space where you are happy, space where you relax and recharge. Home is still the most important place. Equally important is your office, restaurant, office – in short, the world where you work. Think about it too! When selecting, listen to yourself and believe in yourself! You cannot go wrong. Especially when you consider the following tips:
Choice of pattern and color
An important aspect is the size of the pattern in relation to the size of the room or the wall where you want to apply the wallpaper. The general rule is "the smaller, the smaller". It means the smaller the space you have for wallpaper decoration, the smaller the pattern should be. There are several several reasons: a large pattern in a small space will not have a chance to be repeated, "to show" and it is likely that you would have to cut it. It does not look good. Big patterns need distance. Optically, the big pattern would make your little room even smaller.
On the other hand, for the large spaces it is better to choose from the larger patterns and let them shine in all their beauty. Small patterns may look dull on large areas . They can also cause moiré effect, called also vibrating walls. You should be aware of it!
Another consideration when choosing wallpaper is light. For interiors with little light, dark colours are not recommended because they would make the room even darker. The opposite is not true – there is never enough light! Of course, if the room is really bright and your plan is to create e.g. a cozy bedroom, choose darker, fuller tones. Wallpaper colours also have variety of warm and cold tones. For example, to warm up the north side of an apartment, choose warm tones and vice versa – a cooler colour tone wallpaper can bring pleasant freshness to the southern, warmer interiors.
Where to apply the wallpaper
Option 1: Wallpaper as a dominant feature of the room. If we want the wallpaper to be striking, to attract attention, choose the bold, daring, larger themes or wallpaper mural. For the dominant decor the rule is "less is more". In practice this means we only cover one wall of the room. It allows the other elements in the room to stand out as well.
Option 2: Wallpaper as warming, cozy element. In this case, we use smaller patterns, which also means that we can cover all walls in the room. Many of you will now imagine the communist era overdecorated wall coverings and get scared off. But when choosing a contemporary design wallpaper, this effect cannot happen. Personally I recommend to leave at least one wall blank. Delicate patterns beautifully complement empty wall and merge into a whole.
Option 3: Combination In this option we combine large pattern on a dominant wall with a smaller pattern on the other walls. It is necessary, however, to combine wallpaper patterns that fit together, in ideal case the patterns that are already designed for combination.
The application of the wallpaper also depends on the composition of the room and your idea of ​​the individual zones. Wallpaper can very well separate one zone from another. For example, a dining area can thus be separated from the calmer relaxation area with sofa and television.

3. What do you need to know?
People often think imperfect, crooked walls can be "fixed" by applying wallpaper. But the opposite is true. Wallpaper perfectly copies the surface and every fault on the wall will be even more visible. Therefore, before you apply wallpaper you bought, it's better to have the wall repaired. If you contract professionals for your wall covering, they should check the wall in advance and inform you about its quality.

4. Professional application or DIY?
Of course it depends on what you dare to do. Some of you might enjoy the process. Lavmi recommends contracting professionals. After all, they have hours of practice and all those handy widgets that are hard to substitute. Applying the wallpaper will take them considerably less time. Also, you don't risk that something will go wrong and you will lose the money you already paid for the wallpaper. Still, if you want to aply the wallpaper by yourself, read the instructions carefully! Each wallpaper material requires a different process and glue. Before mounting the wallpaper, it is important to use a primer to get you wallpaper adhere well. Glue and primer are available in DIY stores like Hornbach, Baumax etc.

5. What material to select?
Paper
It is the cheapest variant of wallpaper. It has to be soaked before application. It is hard to dismount, it tears. On the wall it looks just as good as the vlies wallpaper. But its washability ability is limited.
Vlies wallpaper (non-woven)
All Lavmi wallpapers are printed on a prime state-of-the-art material. It is actually a paper pulp pressed together with textile fibers. These ensure the strength of the wallpaper. You will appreciate it when dismounting it, because you remove this wallpaper in large pieces. Vlies wallpaper does not contain PVC or heavy metals. Its washability is higher. Wallpaper can be wiped lightly with a damp cloth (never use soaking wet cloth).
Vinyl wallpaper
This is in fact, as the name implies, made of pure PVC, meaning it is environmentally unfriendly, unhealthy, impermeable. On the wall it looks nice and it is so water resistant you could spray it with a hose. It is thus suitable for the kitchen or bathroom, though absolutely unfit for children's rooms and bedrooms.

6. How to calculate how much wallpaper I will need?
If you buy wallpaper in a shop, the amount of wallpaper will be calculated by the professionals. If you buy via e-shop and want to be sure of the quantity, here is a simple formula:
(width of the wall + repeat) x height of the wall = m2
Round up the result up to a whole number For calculation we use a number listed on the label of the wallpaper roll as the "rapport" or "repeat". It marks the measurement after the wallpaper pattern repeats, in centimeters. Standard wallpaper rolls made n Europe have dimensions of 10.05 m x 0.53 m, which amounts to 5 m2 (square meters). Calculation still continues – dividing the surface area of the wall (X) by the surface of the wallpaper roll:
X : 5 = Y
Round up Y to whole number and you have the required number of rolls. All operations must be calculated in the same units, ideally in meters. It is a good idea to calculate in some extra material.

7. How long will wallpaper remain beautiful?
Usually as long as the regular wall paint, unless you have a cat, get flooded by your neighbour or you would wish another change in your life. And the change is…



Babeta Ondrová / designer Lavmi
babeta@lavmi.cz
Other articles